UNIQUE DESIGN FOR LUXURY RESIDENTIAL TOWER ON THE GOLD COAST
The Neighbourhood - 23.08.2021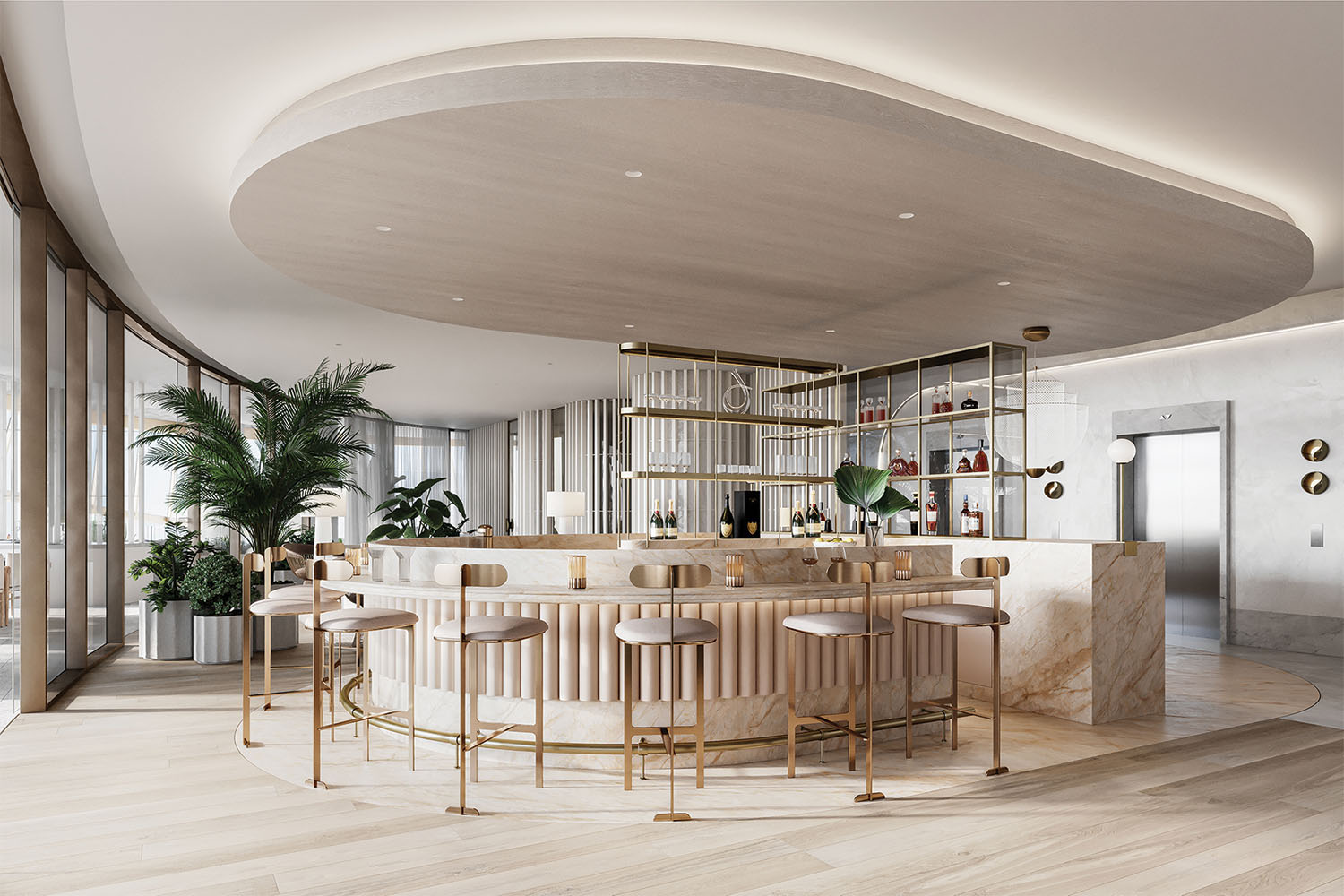 Royale Gold Coast a first-of-it's-kind with unique design element placing prestigious apartments on lower floors for unobstructed beach views.
Leading Australian property developer David Devine has taken absolute beachfront living to a whole new level with a unique design feature for his signature apartment tower Royale Gold Coast.
The recently-announced Royale Gold Coast, planned for a prime absolute beachfront site at prestigious Northcliffe Terrace on the Gold Coast, will incorporate a limited number of premium three and four-bedroom apartments on the lower levels to optimise the unobstructed beach views.
While apartment tower developments normally reserve only the top floors for prestige apartments, David Devine's Devine Living has taken a rare design approach by placing a collection of premium apartments on the lower floors of Royale Gold Coast for prestige property buyers that prefer the lower levels for beachfront living.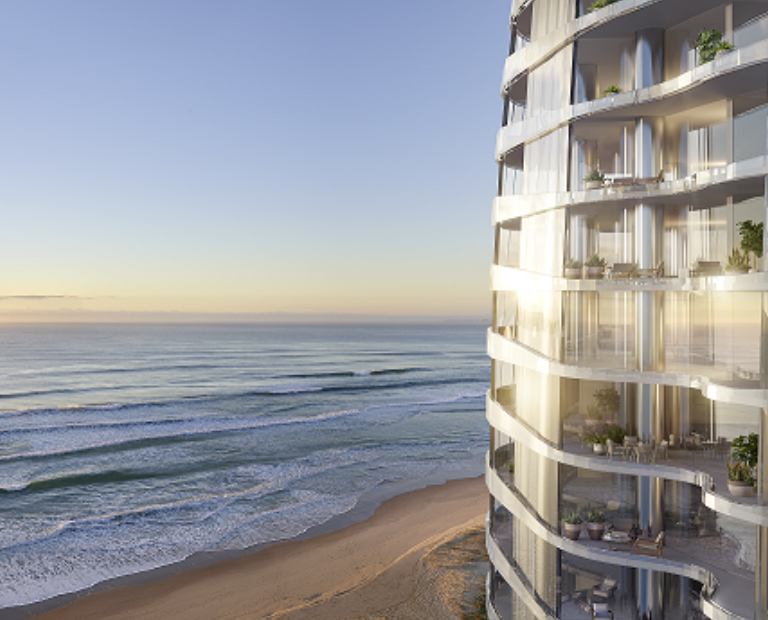 Five-star lifestyle amenities occupying the ground floor and Level 1 include Royale Beach Club with two separate swimming pools, cabanas and day lounges looking out over the beach, outdoor barbecues and a dining terrace, the Royale Wellness Centre featuring a gymnasium, spa, sauna, steam room, yoga and pilates terrace, Café Royale a beachside café, plus Club Royale, a residents' club with an executive lounge, bar and whiskey and wine lockers, private dining and kitchen, meeting rooms and work spaces with an oceanfront terrace.
Royale Gold Coast steps up from the extensive world-class lifestyle facilities to premium apartments from Level 2 to Level 5, incorporating only eight large 335-350sqm luxury apartments (two per floor) across the lower levels of this elegantly-designed 38-level building.
Priced from $4.9million, these premium lower level residences are unlike anything available in the Gold Coast's prestige property market and are a limited opportunity in this new $370million Royale Gold Coast, a signature collection of 104 elegantly-appointed two, three and four-bedroom private residences, sky homes and penthouses on the beach at Gold Coast's exclusive Northcliffe Terrace.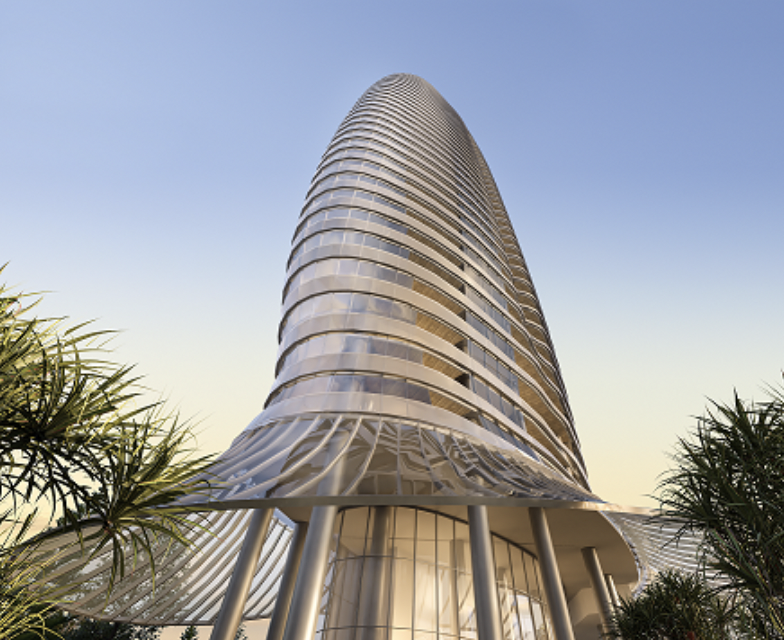 Devine Living CEO David Devine is drawing on his lifetime of years of experience in residential property development, as well as his own personal preferences in regard to the ultimate in beachfront apartment living, to inspire many of the unique design elements at Royal Gold Coast.
"It is from my own experience that I have come to understand the value of premium penthouse-size apartments being on the lower floors when living directly on the beach," Mr Devine said.
"While it is nice to enjoy the wide open ocean views and tranquillity of a sky home or penthouse, there are many people who prefer living on the lower floors to enjoy views of the beach, but still want to live in a premium, sub-penthouse style apartment.
"We worked with DKO Architecture, who are leaders in residential design, to create a premium apartment building with a collection of private residences that encapsulate the exclusivity and prestige of living right on Northcliffe beachfront on the Gold Coast."
DKO Architecture has incorporated large lower level premium apartments that take in the breathtaking beach views, with luxury floorplans featuring gourmet kitchens and butler's pantries, multi-purpose rooms, elegantly-appointed master bedrooms with expansive walk-in robes, ensuited bedrooms, powder rooms for guests and wide open-plan living areas that extend out to large entertainer's balconies referred to as loggias which are large indoor-outdoor all-weather entertaining spaces.
"The tower projects a luxurious laid-back feel to promote a sophisticated coastal lifestyle, with the apartment configuration designed in response to Royale's incredible location right on the beach," DKO Architecture Principal and founding partner Koos de Keijzer said.
"Walking into these apartments with their striking open floorplans framing panoramic views of Northcliffe Beach will take anyone's breath away."
Luxury bespoke interiors by award-winning Australian interior architecture design studio are carried throughout the building, featuring timeless and elegant craftsmanship to take prestige private residences to the next level at Royale Gold Coast.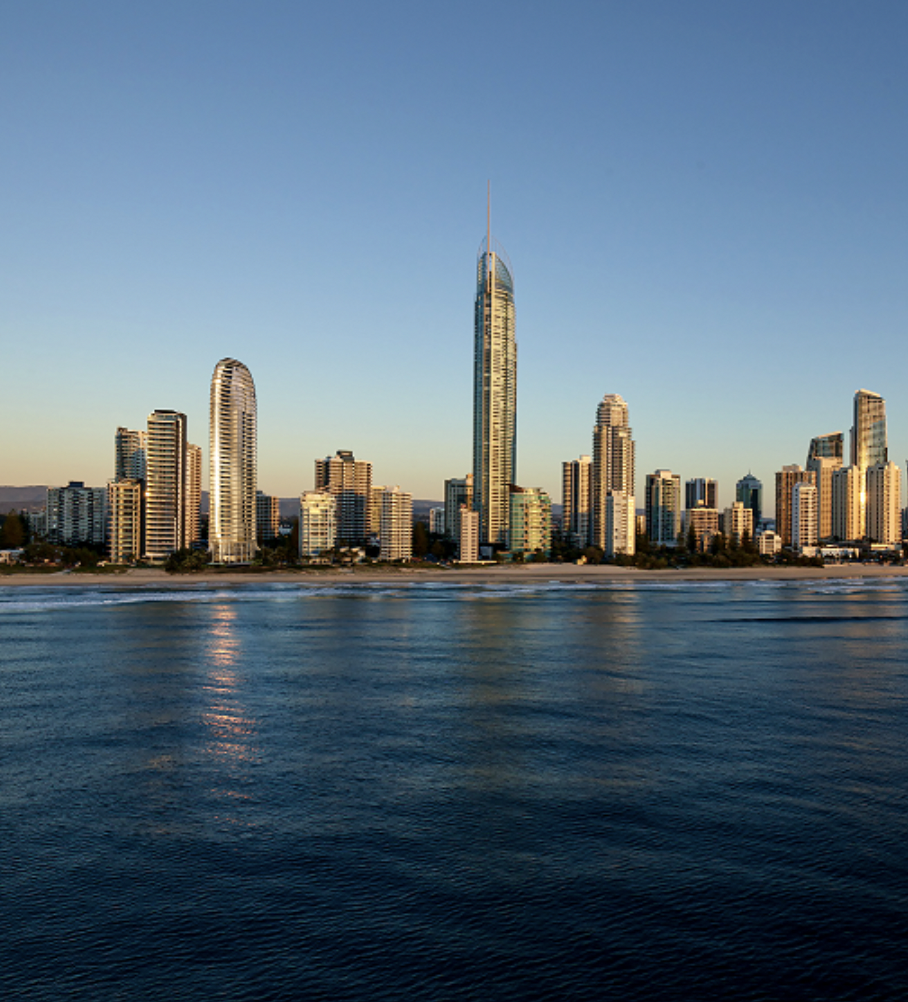 Luxury apartment marketing agency TOTAL Property Group is managing the sales of Royale Gold Coast's private residences, reporting strong expressions of interest since the project was announced in June.
"Royale Gold Coast presents a rare opportunity for prestige property buyers to own a premium apartment directly on the beach in one of the Gold Coast's most exclusive areas," TOTAL Property Group Managing Director and Royale Gold Coast Marketing Manager Adrian Parsons said.
"This development like no other – to include a collection of premium residences on the lower floors is a credit to David Devine and his team, whose vision for Royale Gold Coast is meeting demand from the prestige property market for absolute beachfront living.
"We expect the demand for Gold Coast's prestige properties to continue as high net worth individuals look domestically for five-star experiences and Royale Gold Coast is unlike any other.
Royale Gold Coast offers residents a concierge service and world-class amenities; Royale Beach Club, with two separate swimming pools, cabanas and day lounges on the elevated ground floor looking out over the beach, plus Royale Wellness Centre with a state-of-the-art gymnasium, spa, sauna, steam room, and an exclusive residents' club: Club Royale on Level 1 with an executive lounge, bar, whiskey and wine lockers, private dining room and a commercial kitchen for caterers.
To be delivered by David Devine's Devine Living, Royale Gold Coast will consist of 104 two, three and four-bedroom luxury apartments, sky homes and penthouses across 38 levels at the absolute beachfront location of the corner of Markwell Avenue and Northcliffe Terrace, one of Gold Coast's most desirable residential areas.
For more information, contact TOTAL Property Group on 1300 722 131 or visit www.royalegc.com.au.
READ Original ARTICLE HERE
enquire now
to access the virtual walkthrough, book your VIP appointment and access floor plans and pricing
1300 722 131