Devine kicks off $400m Gold Coast project, forecasts luxury apartment prices on the way up
10.08.2022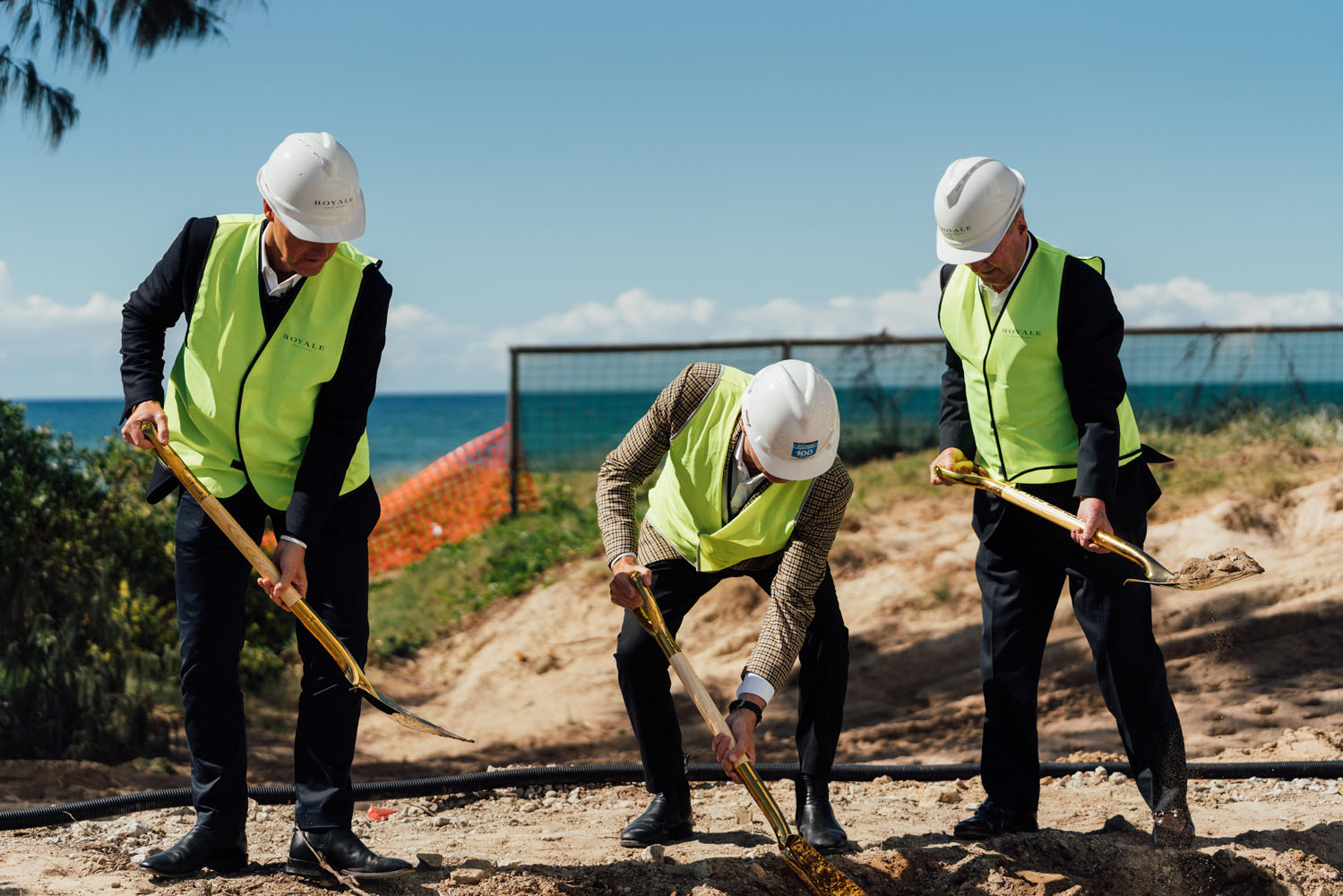 Veteran Brisbane developer David Devine has kicked off construction of his latest project, the $400 million Royale Gold Coast with an emphatic message to the market that property values on the Glitter Strip can only head higher.    
Devine's private company DD Living has secured Hutchinson Builders to deliver the 38-level project on the Surfers Paradise beachfront with sales of about 60 per cent of apartments already under his belt.
The Gold Coast is likely to be a significant future focus for Devine after he described the local premium apartment market as undervalued when compared with prices being paid in Sydney and Melbourne.
Royale, located on a 2251sqm site on the corner of Markwell Avenue and in Northcliffe Terrace, is a luxury development that will deliver 104 apartments from two to four bedrooms plus a collection of beach homes and penthouses.
The project is proceeding amid a number of high-profile projects being abandoned due to rising construction costs, with the latest casualty being the $500 million Pacific One proposed by Melbourne developer Central Equity on a nearby site in Surfers Paradise.
Devine, who has delivered about 25,000 house and land packages and 10,000 apartments throughout Australia including his time as head of the formerly listed Devine Group, concedes the industry is facing consumer confidence issues with off-the-plan developments.
"We've had ups and downs in the building industry all our life and this is about the fifth up or downturn whichever way you look at it," Devine tells Business News Australia.
"I think a lot of buyers who have bought into units on the Gold Coast that haven't gone ahead would be very wary of buying off the plan. There are a lot of sites on the Gold Coast that won't start construction because they haven't got a builder on board or they haven't got a financier on board – but we have both.
"This project is fully funded so it's all systems go. We've got the finance, we've got the builder, we've got the sales and we've got the location. It's a process we've been doing for years."
Hutchinson Builders, which has worked with Devine on about 10 projects, moved onto the Royale Gold Coast site to begin construction this week
"We signed the contract six months ago and Hutchies and ourselves know how important the build contract is," says Devine.
Prices for remaining Royale Gold Coast apartments start from $2.975 million for a three-bedroom plus multipurpose room, up to $12.6 million for the full-floor penthouses. The two-bedroom apartments have all sold.
Although the Gold Coast market is currently in the grip of an affordability crunch due to ongoing strong demand for new apartments amid a supply crisis, Devine isn't buying into talk of an imbalance of high-end apartments at the expense of affordable products in the coastal hotspot.
"I think there is a shortage of both, and the population growth will increase demand over the years which will be underwritten by the Olympic Games in 2032," he says.
"So, I think it's great time to invest or buy on the Gold Coast."
Devine's confidence has been boosted by the strength of the sales achieved by Royale Gold Coast.
"The response has been quite unbelievable, at 60 per cent by numbers sold," says Devine.
He's also forecasting further price growth on the Gold Coast over the current year.
"In Melbourne, good quality product sells for $35,000 a square metre, in Sydney its $65,000 and in Barangaroo its $100,000. I think the Gold Coast for quality product will be $20,000 per square metre in the next 12 months and that will be very reasonable compared to those southern states."
Devine is also happy to continue focusing on new opportunities on the Gold Coast for now.
"I'm sort of in my later years, enjoying life more than I ever have," he says.
"So, I'll just stay on the Gold Coast and produce quality products and people can join us."
Construction of Royale Gold Coast is expected to be completed in the fourth quarter of 2025.
READ Original ARTICLE HERE
enquire now
to access the virtual walkthrough, book your VIP appointment and access floor plans and pricing
1300 722 131